My Daughter Shmoo, and her family blessed me
with a little camping
excursion
this past weekend,
at St Malo.
Yes, we did the real thing!!!...
Camping in tents!
I made a few "small" purchases...
Strictly for the further enjoyment of this out door experience ;)


My first "cool" purchase, an eight man tent.
A girl needs a little room, ya know!
Purchase
#2- A queen size air mattress to go in that
queen sized tent, but the darn thing wouldn't fill up properly!!!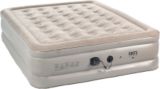 St.Malo, is a soft sandy beach, surround by lush woods, for private camp sites.
There's canoeing for older kids, and golfing, they even had movie night too...
Purchase
#3 -A pop-up outdoor kitchen!!!
I love this!!!
Putting it up was really easy, with my granddaughters help...
Martha Stewart has nothing on us!!!
I enjoyed washing my new "outdoor" dishes...purchase #4
Enjoy dishes? Yeah I know, I'm strange!
**********
We spent time at the beach with the kids....
(You cant see it with this shot, but there is much more sandy beach over the small hill...)

click ST Malo
while he watches a near by
Frisbee
game.
We spent time at the camp site,
the kids thought the Jiffy Pop popcorn was cool to watch over the fire.
...and eat!!!
Not only did my son in-law, J. build us many a fire,
(even at 4am) he also pitched our tents,
and inflated the air mattresses by hand...
Which I and Shmoo
were very
grateful
for...
Hmmm, maybe I better bring my husband next time???
We spent time playing, even the box the kitchen came in was fun,
right Bylla?
The next day we all woke up very, very early...4am.
(some fury little critters kept us gals up)
Lu is still a little tired...
Thecoffee in the percolator kept him entertained while we made breakfast....
Anyway, coffee is on... thank the Lord!
The coffee maker is P
urchase #5...It
saved me that morning!
Shmoo and Timmy are cuddled up under my ultra soft sleeping bag #6.
The temperature was a wee cool early in the morn...
They both look beautifully sleepy
Unlike the night, the day time
temperatures were so high...
+32 to +35!!!
(that's about 89-95 Fahrenheit for our American friends.)


Unfortunately
we had to leave early, for I got heat stroke!!!
G
o
figure...Give us
Canadians
freezing
temps, and we
can handle it!!!
but a little heat...and we'er done!!!
Well, maybe that"s just me???
My menopause didn't help the situation much either -LOL!!!
All in all, I had a great time with my family!!!
I do be-leave, my new camping
items were worthwhile investments...
because, it lead to the best investment of all...
Thanks for visiting our camp site...
August holds one more
camping trip to go, then I am done!
Cheers:)))
thank-you
to
shmoo and fam.
Melanie
@ Food.ca
Mennonite girls can cook